Save the Planet With These Eco-Friendly Products
ACT NOW PRINT AND PROMOTE
With access to over one million products, finding and making the right choice can be overwhelming. Our Signature Showrooms are a great way for you to start your search through some of the products we have highlighted for you.
While we do provide both a quick and advanced search tool here on the site to help you research options further, you may prefer to contact us directly for our recommendations. We would be happy to create a custom presentation and provide you with a personal access code you can use to get to your personalized, custom presentation through the "Presentations" link here on our website.
We can also provide you with your own custom online store containing your company, organization, or school spirit wear and branded merchandise. The benefits to you of taking this approach include:
No need to distribute and then track down printed order forms from your employees or organizational members.

Your store visitors can view detailed information on each product, request more information, or place orders.

No need to worry about payment collections. We provide full credit card processing.

Optionally, your store can provide direct FedEx, UPS, USPS shipping charge integration.
PRODUCT OF THE DAY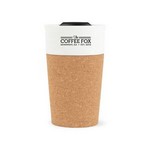 Sintra Cork Porcelain Tumbler - 9 Oz. Wh...
Mixed porcelain and cork materials make for a stylish tumbler. 3.5" W x 6" H x 3.5" L
$14.98 - $20.75
FEATURED BLOGS
The NY Yankees wanted to create special commemorative bottles to celebrate Derek Jeter's accomplishments at Yankee Stadium. They chose 150 magnum-sized (1.5L) bottles with a special logo and Jet...
What Our Customers Are Saying
Act Now Print And Promote is our choice for printing and promotional needs. Excellent quality, fair pricing and top notch service on each and every order. Darlene continues to go above and beyond what...
Dave Novak, President
Mar 17, 2015