ACT NOW PRINT AND PROMOTE
With access to over one million products, finding and making the right choice can be overwhelming. Our Signature Showrooms are a great way for you to start your search through some of the products we have highlighted for you.
While we do provide both a quick and advanced search tool here on the site to help you research options further, you may prefer to contact us directly for our recommendations. We would be happy to create a custom presentation and provide you with a personal access code you can use to get to your personalized, custom presentation through the "Presentations" link here on our website.
We can also provide you with your own custom online store containing your company, organization, or school spirit wear and branded merchandise. The benefits to you of taking this approach include:
No need to distribute and then track down printed order forms from your employees or organizational members.

Your store visitors can view detailed information on each product, request more information, or place orders.

No need to worry about payment collections. We provide full credit card processing.

Optionally, your store can provide direct FedEx, UPS, USPS shipping charge integration.
PRODUCT OF THE DAY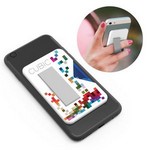 Clutch : phone security strap and cardho...
A great addition to any phone, the Clutch is a combination security strap and wallet. Clutch safely adheres to the back of your phone or phone case making it a universal fit. Can be removed with no st...
$8.33 - $9.00
FEATURED BLOGS
A five-star resort that frequently hosts corporate events for Fortune 500 companies wanted to reach out to corporate guests to entice them to return for family vacations. The goal was for the guests t...
What Our Customers Are Saying
The products and services offered by Darlene and Act Now have been invaluable to my company. Darlene is knowledgeable and helpful in working with me as a small business owner to come up with products...
Eric Stalter
Jun 04, 2015